Migration
Innovation
Optimization
NLP
Java EE
Weblogic Server
Coherence
Service Bus
Provisioning
High Availability
Node Manager
Cluster
Failover
Configuration
Deployment
WLS12c
Migration
Investment Protection
Best Practice
Fault Diagnostics
Optimization
Performance Management
Architecture
Development
Java
JMS
JMX
Code Generation
NAS
ZFS
Cloud
IaaS
PaaS
SaaS
Appliances
Migration
Innovation
Optimization
NLP
Java EE
Weblogic Server
Coherence
Service Bus
Provisioning
High Availability
Node Manager
Cluster
Failover
Configuration
Deployment
WLS12c
Migration
Investment Protection
Best Practice
Fault Diagnostics
Optimization
Performance Management
Architecture
Development
Java
JMS
JMX
Automated provision of Oracle Weblogic Server Platform
Automation of the whole process for the provision of an Oracle Middleware Platform consists of a multitude of complex sensitive procedural steps, both from a semantic as well as a syntactic perspective, in combination with the artifacts required, programmatically reduced to a single command line call, it enables execution in the shortest time possible in continuously high quality and reproducibility.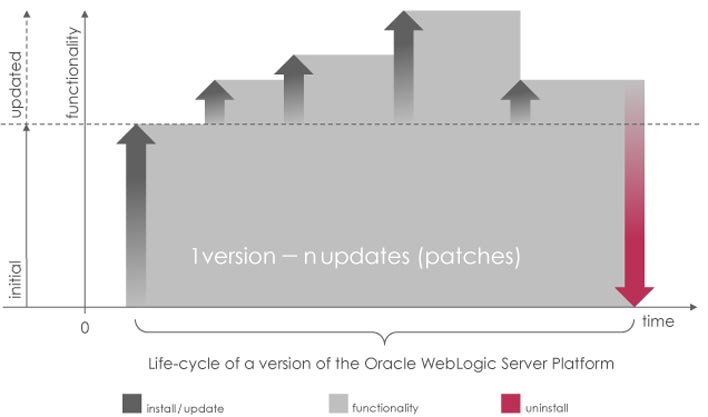 Definition
The term "Provision" of a Oracle Weblogic Server Platform comprises its whole life time cycle, starting from its initial installation, via a chosen number of possible extensions and/or reductions (JAR-/Script-Patching), to the final complete deinstallation.
Functionality
The Process for an automated provision of an Oracle Weblogic Server Platform:
comprises all required working steps and artifacts
requires no preparation
requires no post-processing
is applicable on all versions from 10g Release 3, operated under Unix/Linux
enables parallel operation of various versions on one host system
fulfills all requirements for the provision of high availability:

Node Manager
Crash recovery
AutoKillIfFailed
AutoRestart
Clustering
Whole Server Migration

delivers additional commands for efficient and reliable configuration. These commands can be issued centrally, from any of the unlimited number of comprising host systems, for configuration and/or administration of:

SSL certificates (self-signed), configured (CN, OU, O, L, S, C) to support Hostname-Verification (generation/extension/reduction)
SSH- und SSL key trust (generation/extension/reduction)
OCM/MOS access (setup/management/termination)
Weblogic Server domains (generation/extension/reduction)
Weblogic Server instances (operating and monitoring run level)

can be executed as a signed package
unlimited reproducibility
unlimited expandability due to modular structure
Products supported
The process for automated provision of an Oracle Weblogic Server Platform is applicable and has been tested with the following products:
| Weblogic Server Version Number * | Oracle Fusion Middleware Release Number | GA Date | Premier Support Ends | Extended Support Ends | Sustaining Support Ends |
| --- | --- | --- | --- | --- | --- |
| 12.1.x.0 | 12c Release 1 | 2011 Dec | 2016 Dec | 2019 Dec | indefinite |
| 10.3.x.0 | 11g Release 1 | 2009 Jun | 2018 Jun | 2021 Jun | indefinite |
| 10.3.0.x | 10g Release 3 | 2008 Aug | 2014 Jan | 2017 Jan | indefinite |
*) MBean Attribute: DomainMBean.ConfigurationVersion
References: Oracle Lifetime Support Policies, Lifetime Support Policy: Oracle Fusion Middleware Products
Application Area
The processes are suitable for comprehensive, efficient and reliable provision of an Oracle Weblogic Server Platform for:
Operators of physical or virtual host systems in a conventional environment (production, integration, test, development)
Providers of PaaS, in public or private Clouds
Provider of Appliances
Further information
Get in
touch
with us.